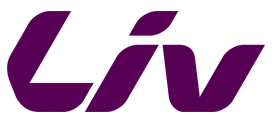 Thrive E+
EX Pro
$3499.99 Original price $4999.00
Available sizes: L
In store only
THE THRIVE E+ EX IS YOUR TICKET TO THE OPEN ROAD…WHEREVER IT MAY TAKE YOU.
Key Performance Factors
Functional
The perfect in-town E-bike designed specifically for commutes and errands, with front and rear lights, a kickstand, a rack, fenders and visible navigation on the RideDash Evo handlebar-mounted screen.
Powerful
A combination of Smart Assist Technology, the reliable EnergyPak Smart Compact 500 battery, and 360% max support from the SyncDrive Pro motor bring you powerfully seamless riding, so you can enjoy your time going place to place or looking for adventure.
Comfort
A frame designed with Liv's women first design philosophy and E-bike friendly saddle and grips create a comfortable road riding experience in an appealing package.
Range
How far can I expect to ride on a single battery charge?
The range for a single battery charge can vary greatly depending on conditions such as the combined weight of the rider and cargo; wind resistance; tire pressure and tread profile; terrain and elevation changes; road or trail surface; outdoor temperature; maintenance of the E-Bike; and the condition of the battery.
The bar below gives an approximate range. Conditions are categorized as extreme, good and ideal. Extreme conditions typically occur when riding with a heavy load, strong headwinds or excessive climbs.
EnergyPak Compact 500 / SyncDrive Pro
Range
Extreme:

42 km

26 miles

Good:

80 km

49 miles

Ideal:

145 km

90 miles
ALUXX SL-Grade Aluminum
Lightweight aluminum frame made in Giant's own industry-leading aluminum manufacturing facility contributes to weight reduction and a quick, agile feel
EnergyPak Smart Compact
The EnergyPak Smart Compact is our 500 Wh electric road bike battery, which has the sleekest profile designed to help your E-bike blend in with a fleet of non-electric road bikes. The EnergyPak Smart Compact has aluminum casing to help prevent overheating, for both safety and battery-life extension purposes.
Smart Assist
Enjoy seamless acceleration and power boost. The Smart Assist Technology system replicates a natural riding style, using the six sensors to add assistance exactly when needed
SyncDrive Pro Motor
Reliably delivers smooth pedaling power to naturally extend the rider's ability. SyncDrive Pro delivers up to 80Nm of torque and Smart Assist Technology with 6-sensor measurements for a smooth ride across varying terrain
Disc Brake Equipped
For precise braking and control in all terrain and variable weather conditions
RideDash Evo
A color display that allows you to monitor your riding data and track your fitness gains
RideControl Ergo
RideControl Ergo takes your E-bike riding experience to new levels with smart integration buttons for clean and simple display-free handlebar controls. Ergonomic and accessible while riding, easy-to-push buttons let you select your power mode and Walk Assist.
All prices and specifications are subject to change without notice.